Plinko Strategies
It should be understood that in casinos and gambling can not be infallible techniques or tactics to guarantee a win. The main thing is luck and persistence of the player.

However, there are methods to influence the outcome of the game, which help act correctly to increase winnings. Applying these strategies it is possible to win more often.

If you are a beginner, it is not unreasonable to get acquainted with popular strategies or learn something new about them. They allow you to save your bankroll, increase your winnings with minimal risks, even after a long streak of bad luck.

Below we will break down some of the rules and the most common strategies for playing Plinko.

Plinko Casino
How do I win at Plinko?
Applying these tips and recommendations, you will significantly increase the probability of winning and maximize the RTP of the game. It should be understood that Plinko is a game of chance with all the inherent risks. Play for free money, for fun.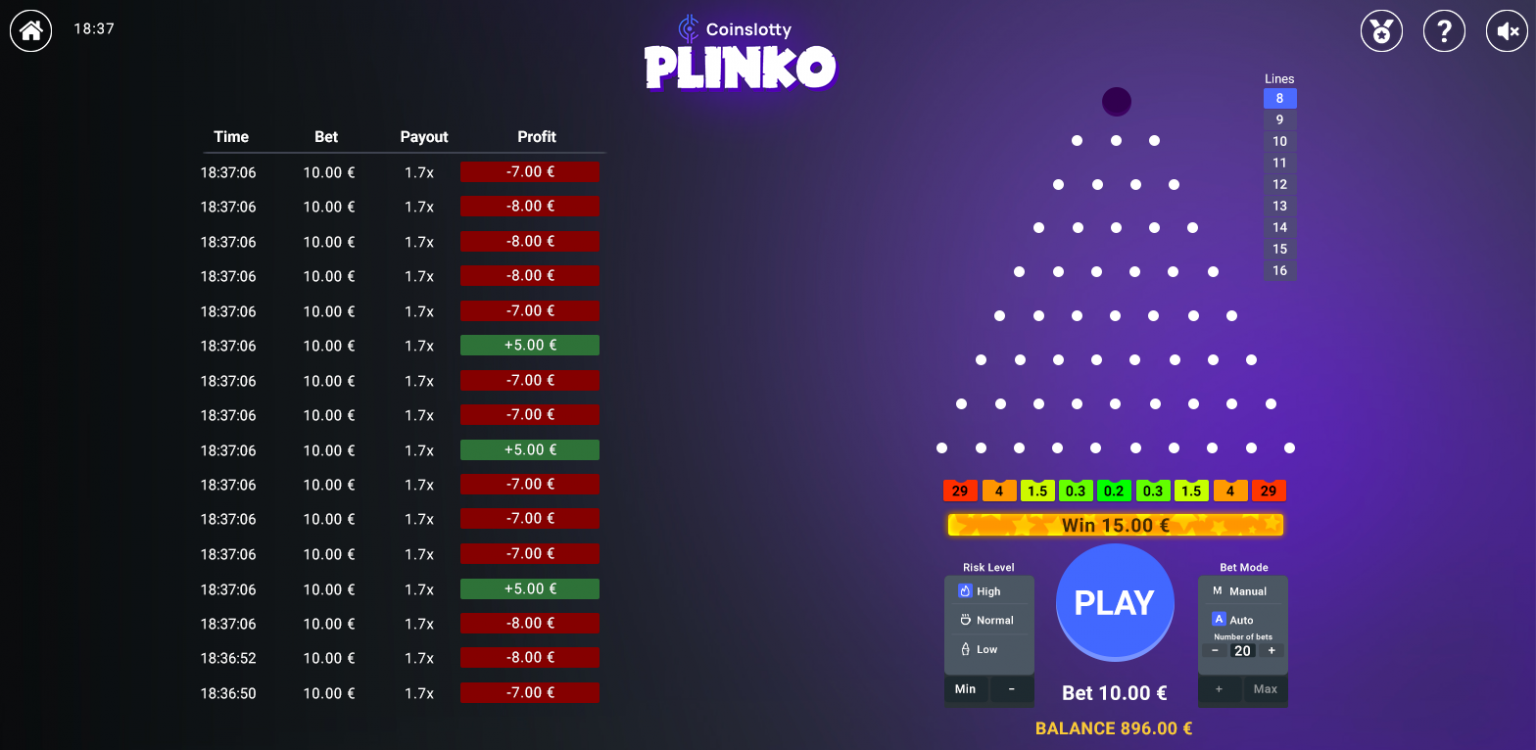 Choosing the right game
Before you play, it is important to choose the right online casino site to play Plinko, as well as the game itself. You may have a question - what is the point of choosing between different modifications of the game Plinko, if they are all the same? This is a misconception - different versions have different conditions, bonuses and so on. Do not make the mistake of choosing a game just because of beautiful graphics or more interesting gameplay. This is not in your interest and can play a cruel joke.

If you want to use the tactics we have described, the choice of game is very important. As we have found out, the ball is most likely to fall on medium multipliers. You should also consider that the lowest odds are higher in some versions of the game than in others.

For example, Plinko Spribe has the lowest median odds, at 0.4, while in Plinko MyStake it is 0.5. This may seem like an insignificant difference. But try to do a quick calculation of the payout for each odds at the maximum bet of $1,000. You will get a difference of $100, and that is not insignificant.

An even bigger difference in Smartsoft Plinko, where several median multipliers have 0.2 odds. But on the other hand, in Plinko BetFury the median multipliers are much more interesting - x1 and x1.1.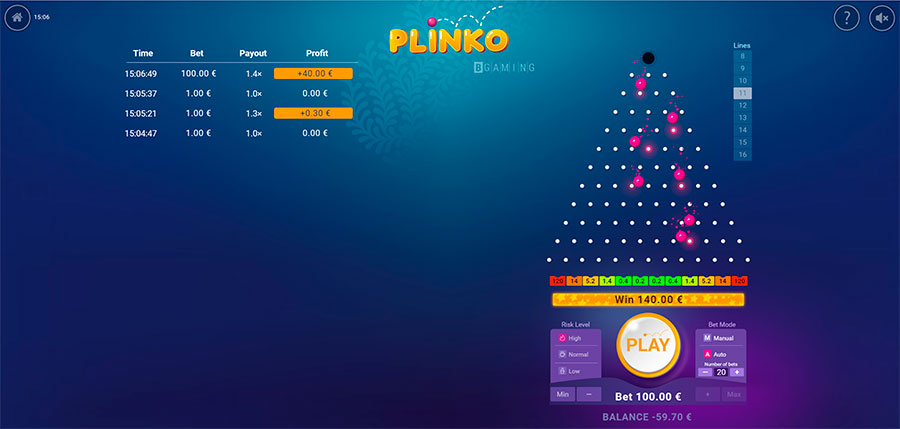 Playing Plinko on a low difficulty level
Spending a lot of time in the game Plinko, we made this observation: the disk or ball most often falls on the middle multipliers. The biggest multipliers are on the bottom lines. You can check this by entering the game.

You can notice that the multipliers in the middle are high enough for a low difficulty level. And as a conclusion: the odds will decrease if you choose a medium or high difficulty level. We recommend increasing the bet at this level to earn solid money.
Colors and number of pins and balls
Many players are convinced that one of the most reliable methods of successful play is to play a yellow or green ball in automatic mode, after which you select 16 lines. This method reduces the chances of losing, because you will receive payments constantly, without significant losses.

Another successful strategy is to play on 14 lines, betting on red or green. With this method, you can get a maximum multiplier of x353. As you have realized, this method does not work everywhere, but only where you can run discs of different colors at the same time.

The number of lines and pins can be different on Plinko from different developers.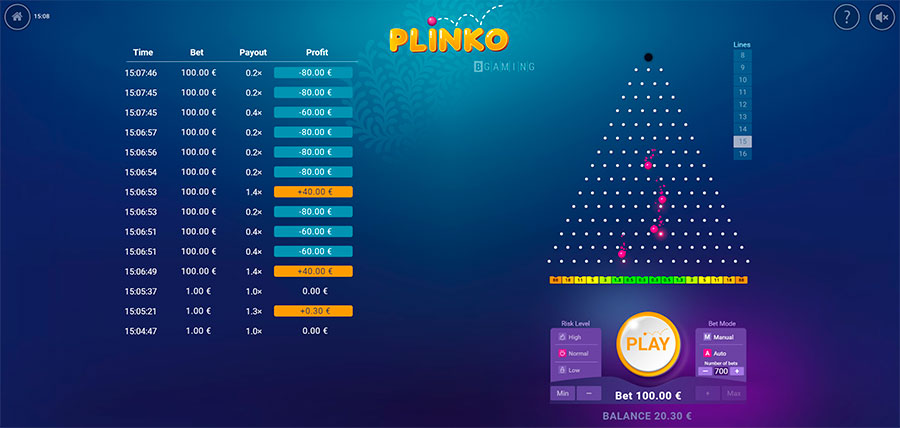 Popular Plinko strategies
If you are a beginner, it is not unreasonable to get acquainted with popular strategies or learn something new about them. They allow you to save your bankroll, increase your winnings with minimal risks, even after a long streak of bad luck. Let's break down some of the most common and time-tested Plinko game strategies.

Parlay strategy - is the most popular strategy. In addition, it is easy to understand. By following it, you will play along with your wins, doubling your bet after each win. In a long series, this strategy can bring good profits. It is only important to stop in time.

Martingale strategy - is another popular strategy that works for many players around the world. Its essence is to bet until the moment of loss. After that, the bet is doubled. If you lose, you go back to the original bet. It is also important to take a break if the series of losses lasts long enough.

Note that there is no strategy that guarantees a 100% winnings. This is especially true for players who do not have a large balance to increase their bets several times.
So how do you win at Plinko's?
Experienced casino players often practice different combinations and bets to get the maximum possible winnings. But this is not suitable for all gambling games. If poker or blackjack requires the ability to calculate well in the mind, in Plinko you should rely entirely on luck. It's pure luck.

What this means, then, is that in games that use a random number generator instead of a real, live dealer, it is simply unrealistic to develop an effective winning strategy. In other words, neither Parlay nor Martingale is 100% effective. You can follow the rules in order not to waste the pot, but if you are unlucky, you won't be able to win. Or, conversely, if you are lucky, you stand a good chance of winning big money with your first bet!

Sure, you can try your luck doubling your bet every round or even going all-in. But remember one simple thing - a 100% guaranteed strategy in this game does not exist.

For fans of the detailed study of the payoff (RTP) slots, the number of losses and wins, we recommend to use the demo. Thus, you can get acquainted with the game without investing real money. Bets are made with virtual coins, so the risks are minimized. In addition, to run the game demo does not require registration.

It is best to start playing in demo mode, and after that, making sure of the uniqueness and possibility of winning, replenish the account already with real money.

Plinko Casino